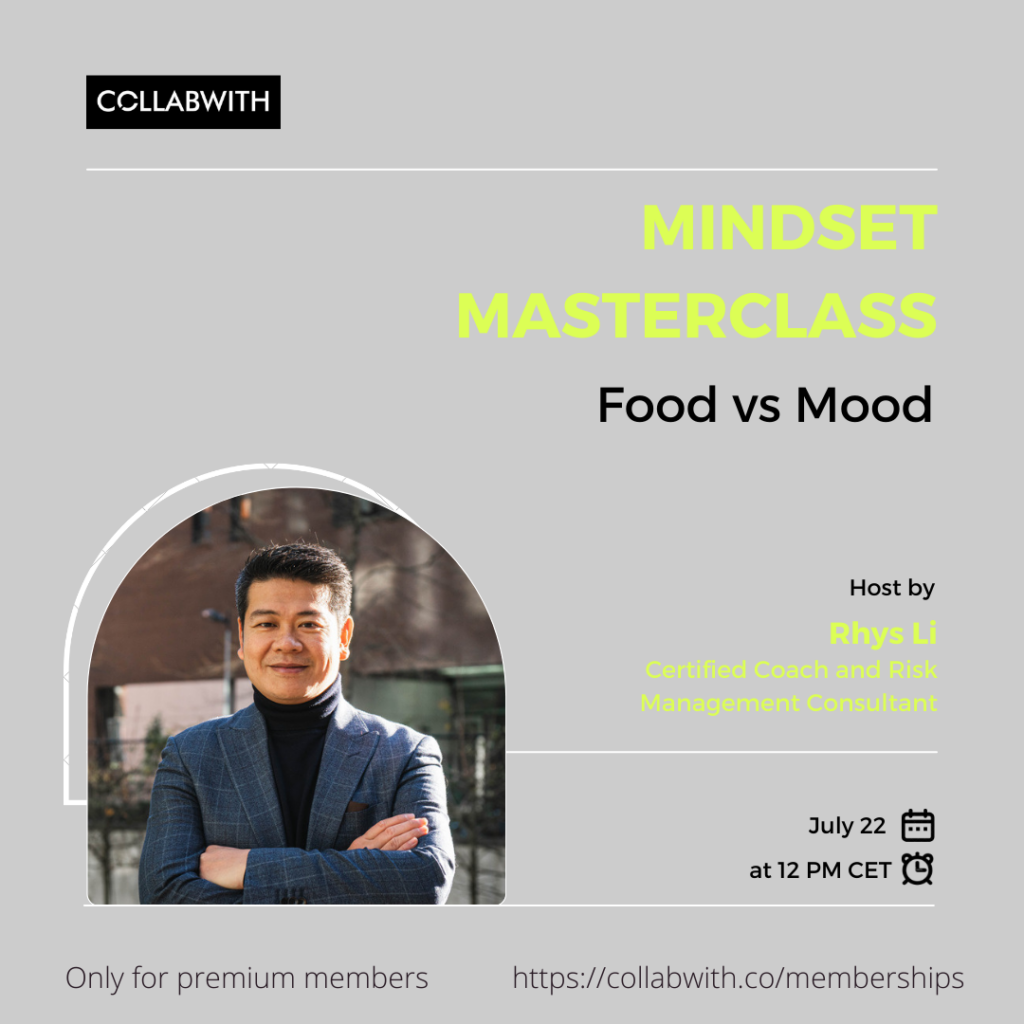 MINDSET MASTERCLASS:
Food vs Mood by Rhys Li.
Mindset / 1 hour / Online / English / Friday 22nd July 2022 at 12noon CET
100€ (Free for Premium Members of Collabwith)
"Ingredients are what make us healthy, not food"
What will you learn?
You'll learn the basics of how food may impact your mood by understanding:
Which nutrients may promote health benefits for you as a leader
Which nutrients can negate all your energy
How your current eating habit is impacting you today
How to change your diet
This masterclass has the purpose to help you with the following points:
Why is this masterclass helpful for you
Understand the nutrients
What your daily food journal looks like
Requirements
Computer or mobile phone with Zoom app.
You will learn that performance is about mindset and food.
As a business owner or an entrepreneur, having the right mindset is crucial for success so that opportunities, innovation, and new value creation can come naturally.
It is not hard to see why a mindset such as this would benefit entrepreneurs and business owners. To understand why an entrepreneur mindset is so valuable in today's fast-paced world, we need to understand what impacts us.
This is why I called Rhys Li who is a super expert on health and wellness to give every month a masterclass about mindset.
This masterclass is also suitable for
Creative Entrepreneurs who are building their own new business and who wants to build a strong mindset to bring their innovative solutions to the market.
Innovation Professionals who are working with entrepreneur teams, and aim to have outstanding and creative results in a short period of time.
Leadership management who wants to improve their mindset skills to manage projects and teams.
Innovation consultants who are building a new their new business and who wants to build a strong consulting asset to help other organizations with effective and proof methodologies from universities.
Researchers who are building their own new business from their research results and who wants to build a strong strategy to bring their innovative solutions to the market.
"If you are feeling like you need a siesta. You need better food, less food to keep with the energy"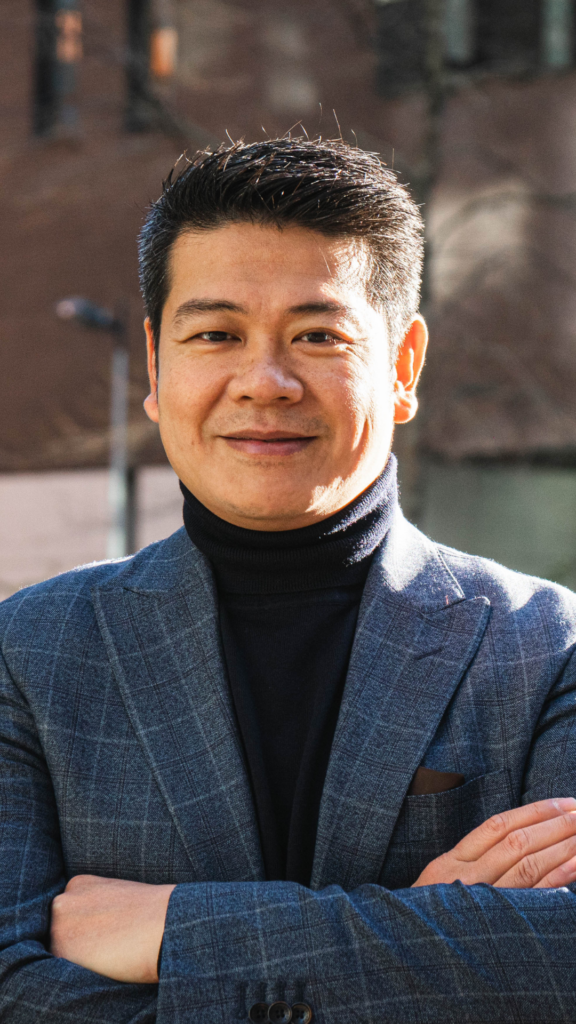 Rhys Li
Health & Wellness Coach
Rhys Li grew up in NYC and has lived in Amsterdam since 2014. Over 20 years of leadership experience in an international consulting firm assisting various client industries to meet its objectives. Rhys is a strategic design thinker and founded Your Success, Your Life to support individuals and organizations to achieve their goals. He obtained his MBA at Erasmus University in Rotterdam and is a Certified Organizational Coach from leading university HEC – Paris.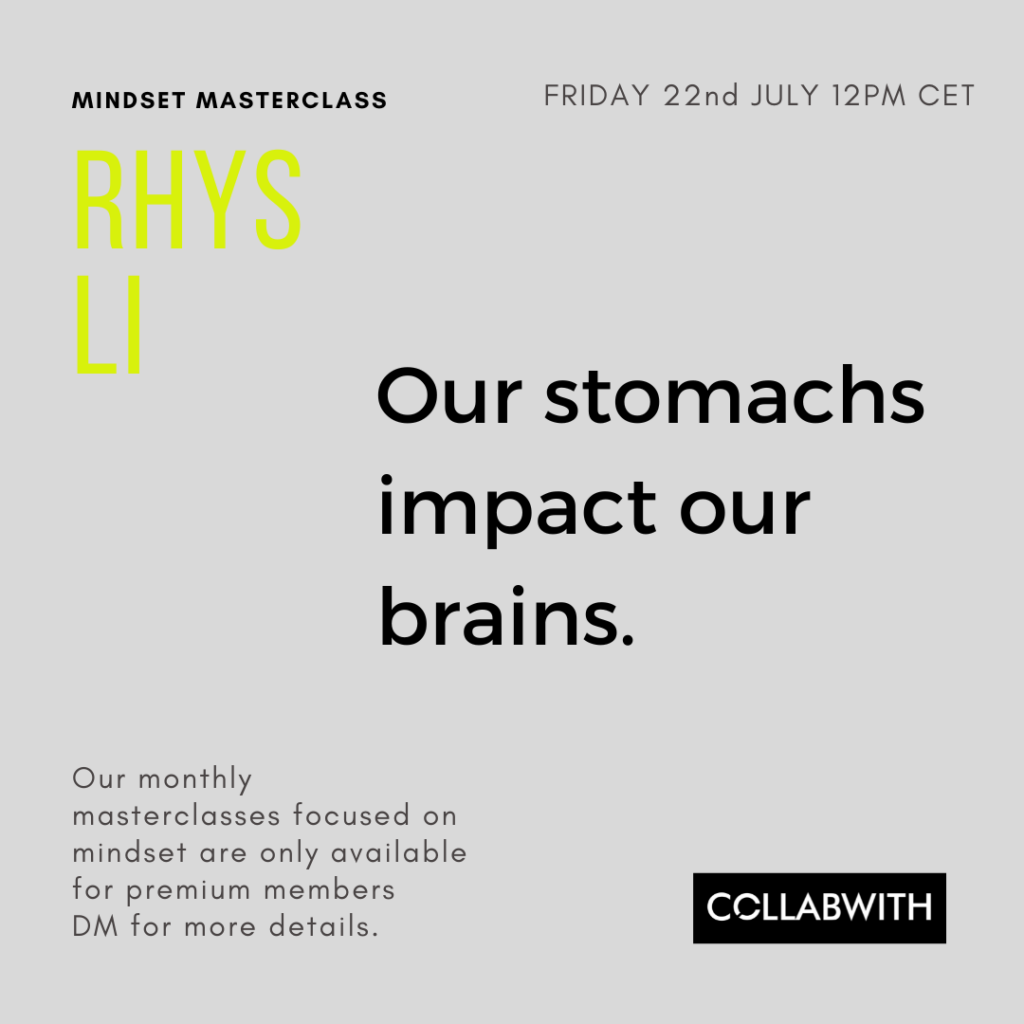 Agenda
Why is this masterclass helpful for you

Understand the nutrients

What your daily food journal looks like
Contact us if you have any questions: Jara Pascual // hello@collabwith.org